As a student, you want to make sure that you're getting the most out of your education. You may be wondering if there's a way to learn more quickly and easily. The answer is yes- and no. There are some things that will always require hard work and dedication, but there are also ways to make learning easier and more fun.
One way to do this is by using technology in your studies. Technology can help you focus better, learn new concepts more quickly, and even have fun while you're learning.
A digital multimeter is one such technology. It is a handheld device that allows you to measure various electrical parameters and currents. It can be used for a variety of tasks, including testing circuits and measuring current, voltage, and resistance.
How does a smart digital multimeter work?
The device contains a display screen, a few buttons to select the measurement type, and a probe. It also has an internal processor which allows it to store data and process information quickly. The digital multimeter can measure both voltage and current, as well as resistance. It uses the data from these measurements to calculate various parameters such as peak values, frequency, and capacitance.
The processor of the digital multimeter can also be used to create graphical representations of measured data, which can be helpful when analyzing circuits or troubleshooting problems. Additionally, modern digital multimeters come with additional functions such as temperature measurement and automatic shutdown if an excessive current is detected.
Overall, a smart digital multimeter is a useful tool for students and technicians alike. It can make learning easier, help diagnose problems in electronics, and be used as an essential part of any electrical project. With its various features, it's no wonder why the smart digital multimeter has become so popular!
Advantages of the smart digital multimeter
There are many advantages to using a smart digital multimeter:
The most obvious is that it can be used with minimal effort, as the normal functions are automatically judged by an integrated circuit chip. This eliminates the need for users to manually change settings or press buttons- making it ideal for students and DIY makers who don't have much experience with electronics.
Additionally, the cost of a smart digital multimeter is relatively low, making it an attractive option for budget-minded users.
The device is also highly portable, making it easy to take with you on the go. Digital multimeters, unlike their analog counterparts, are capable of recording data and generating graphical representations of readings – an invaluable resource when discerning patterns or troubleshooting circuits.
It is also worth mentioning that modern digital multimeters are much more rugged and durable than their analog counterparts, which makes them a great option for outdoor use or in harsh environments.
The use of an integrated circuit chip also makes the multimeter much easier to use and less vulnerable to inaccurate readings. With a smart digital multimeter, you can be sure that your readings are accurate and reliable.
Disadvantages of the smart digital multimeter
One disadvantage to using a smart digital multimeter is that it has threshold values for voltage and resistance. This means that it cannot measure very small values accurately.
Additionally, it may be difficult to troubleshoot more complex circuits with a digital multimeter due to the lack of visual feedback. Analog multimeters are often preferred when troubleshooting because they provide a graphical representation of the circuit, which is easier for most people to understand.
Finally, there is a risk of overloading the device if used for very high voltages or currents, and it is not suitable for measuring DC voltage levels above 1000V.
Who is suitable to use the smart digital multimeter?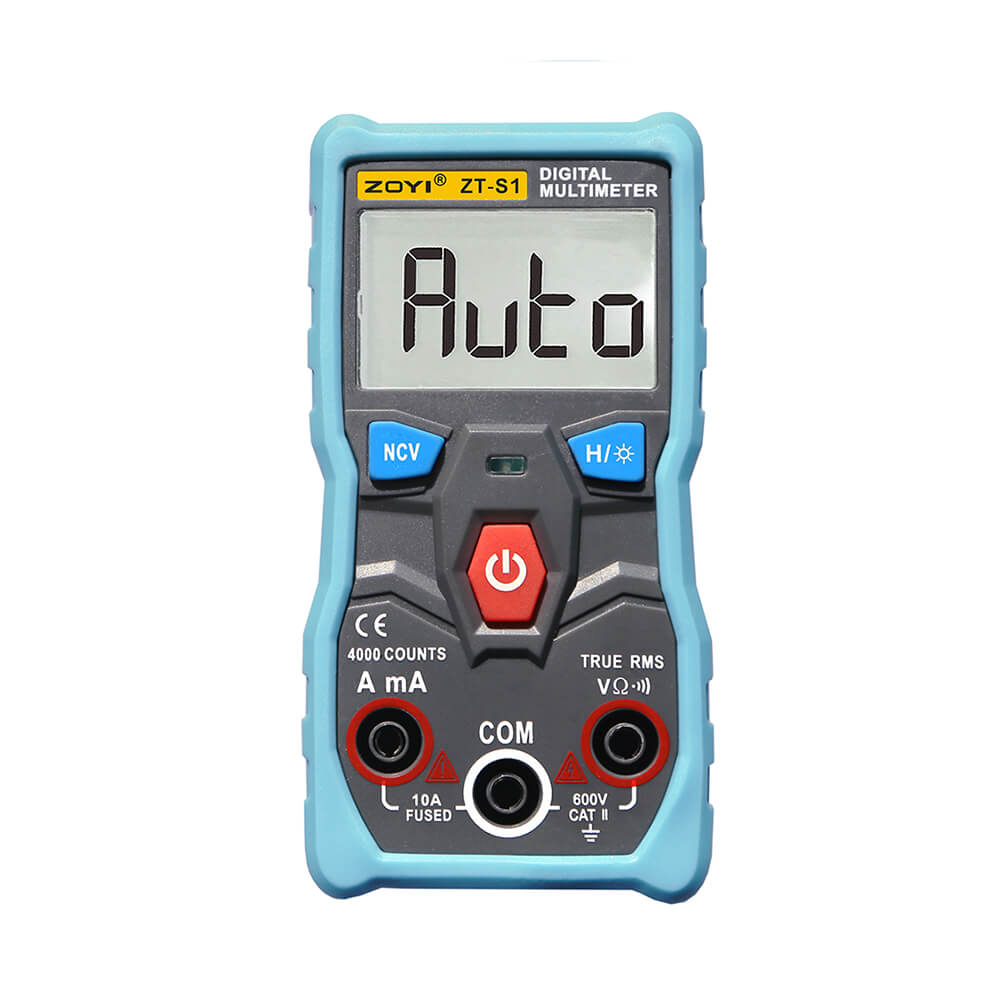 The smart digital multimeter is suitable for many users, from students to DIY makers and new users who don't want to constantly have to manually change settings or rotate the switch. This device offers a range of features that make it appealing, such as its low cost, portability, and ease of use. With an integrated circuit chip, the multimeter is able to automatically judge readings, making it perfect for those who want accuracy and reliability.
Where to buy the smart digital multimeter?
If you are in the market for a smart digital multimeter, your first stop should be your local hardware store. Many of these stores have a wide selection of digital multimeters to choose from, with different models available at varying price points. Shopping locally is often preferred by avid DIY makers, as it can provide an opportunity to ask questions and get expert advice. If you're not able to find what you're looking for in your local hardware store, there are many online stores that sell digital multimeters as well.
With so many options available, it's important to do your research and make sure you get the best product for your needs. No matter where you decide to shop, you can be sure that a smart digital multimeter will provide you with an accurate and reliable reading.
Why the smart digital multimeter cannot judge the capacitance and other functions?
The main reason why a smart digital multimeter cannot judge the capacitance and other functions is that the integrated circuit chip inside it is not designed to recognize them. The IC chip is programmed to detect specific types of electrical parameters such as voltage, current, resistance, and frequency. It cannot detect capacitance or other components with different electrical properties.
For measuring capacitance, frequency, or other electrical parameters that a digital multimeter cannot measure, you will need to purchase an additional device, such as an oscilloscope. This can be used in combination with the digital multimeter for more accurate readings.
Conclusion
Smart digital multimeters are a great invention for new users to learn about electronics. They provide an easy and reliable way to measure voltage, current, resistance, and other electrical parameters that are essential in any electronics project.
Not only are they accurate and easy to use, but they are also more durable than their analog counterparts, making them suitable for long-term use and maintenance. They are also more affordable than other digital multimeters, making them a great option for those on a budget.
We hope this article has helped you understand more about digital multimeters and why they are a great tool for any electronics enthusiast. With the right knowledge and use, these tools can help you take your projects to the next level.